Investor Cash Flow – DSCR Mortgage
Investor Cash Flow Mortgage
Many of our real estate investor clients on Saint Simons Island, Brunswick (and all over the Southeast) are looking for alternatives to traditional Fannie Mae and Freddie Mac investment property mortgages.
Our Investor Cash Flow (or Debt Service Coverage Ratio – DSCR) mortgage is a great alternative that offers more flexibility than the GSE's programs. Fannie and Freddie have strict rules about income qualifying, tax return analysis, and have no ability to title the property in an LLC. The DSCR mortgage bridges those gaps.
That all sounds great, but what is an investor cash flow mortgage?
An Investor Cash Flow mortgage program allows you to qualify based on rental analysis to determine property cash flow. No personal income is required to qualify. This saves you from submitting complicated income statements and tax returns. Instead of collecting W2s, paystubs, business and personal tax returns, etc., we rely on the appraisal to determine the estimated market rent for the property you want to purchase.
The goal is for the estimated market rent to fully cover the principal, interest, taxes, insurance and HOA dues (PITIA) each month. How does that work, you say? Let's look at an example: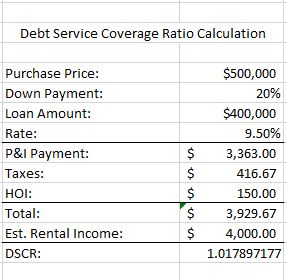 As you can see in this example, the estimated market rent covers the total PITIA of the property, and the only other analysis we require is assets for down-payment. With a 25% down-payment or more and 700+ credit score, rental analysis isn't even required!
Not only is the income underwriting streamlined for this program, you can also close in the name of your LLC to limit your liability for the rental property. Fannie and Freddie do not allow that, and this feature is a major benefit of the investor cash flow mortgage.
Here are some additional product features and highlights:
Loans up to $1.5 million, Minimum loan of $75,000

Qualification based on property cash flow − Minimum DSCR 1.0

No DSCR needed with minimum 700 FICO and max 75% LTV

No personal income or employment information required

Properties can be in LLC's name

No limit on total number of properties

Purchase and cash-out or rate-term refinance

40 year fixed interest only available

Non-warrantable condos allowed
If you or your clients are looking for a flexible streamlined investment property mortgage loan, this could be the solution you need. Call me today or Apply Online to get started on your next real estate investment.