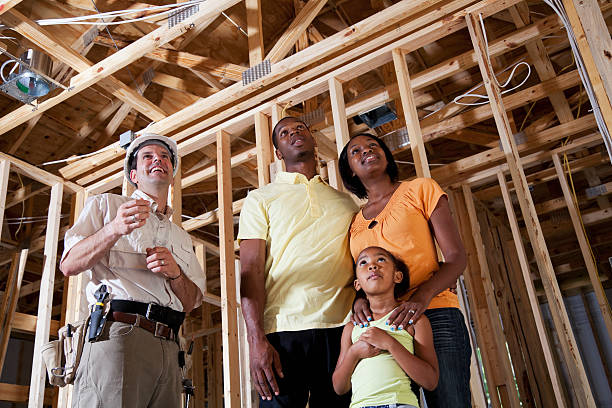 Capital City Home Loans offers Lot Loans, Conventional, FHA, Jumbo, and Portfolio Construction & Renovation Mortgages.
Build the home of your dreams with our one-time close construction-perm loan. Capital City Home Loans offers an extensive menu of construction-perm home loans to help you build your next custom home. We offer construction financing for primary home and for vacation homes.
One of the most innovative solutions in the mortgage market today is the Construction-Perm Loan. Construction-Perm Loans are the key to simplifying the financing process for your new home construction. This dynamic mortgage option offers flexibility, competitive rates, and a seamless transition from the construction phase to a permanent mortgage.
Construction-Perm Loans are designed to make building your dream home a smooth and stress-free experience. With flexible terms, you have the power to tailor your loan to suit your unique needs. Plus, you can lock in competitive interest rates that provide stability throughout your project. What sets these loans apart is the seamless transition from the construction phase to a permanent mortgage. This means no need to reapply for a mortgage once your home is complete – saving you time and potential stress.
Our construction-perm loans offer a range of benefits, such as lower down payment requirements, a guaranteed 12 month rate lock, and a dedicated construction department to help manage your build. Whether you're building a brand-new home or renovating your current one, this financing option can provide the financial support you need to bring your vision to life.
At Capital City Home Loans on Saint Simons Island, we believe that homeownership should be within reach for everyone. Construction-Perm Loans are a testament to our commitment to making your homeownership dreams a reality. With our expert guidance, you can navigate the loan application process with ease, ensuring that you secure the funding necessary to build the home you've always wanted.
Explore our comprehensive resources, connect with Stephen Moreno, and take the first step toward turning your dream home into a concrete reality. Let's get started on your journey to homeownership today.
Fix up your fixer upper home with a Rehab Loan. If you have found the perfect home but it needs renovation, you can purchase the home and roll the costs of the renovation into your loan.
An FHA 203(k) Loan, also called a Renovation Loan, allows buyers to finance the cost of the home and the renovation in one mortgage with a low rate.
Capital City Home Loans also offers a suite of specialized one-time-close construction-perm products that can be used to renovate your home with loan amounts ranging into the millions.
Rehab and renovation home loans have similar qualification requirements to a standard FHA or Conventional mortgage loan, with additional documentation needed related to the renovation.
Purchase land with our Lot Loan Program. Capital City Home Loans offers lot loans to purchase land for primary homes and vacation homes. These loans are offered on a 15 year note with a minimum down-payment of 20%. We offer loan amounts of up to $1M, and can finance up to 50 acres. Credit score minimum of 630 applies.
Have questions? Give us a call! We're happy to answer all of your questions.
ONE-TIME-CLOSE CONSTRUCTION LOAN FAQs
A "one-time-close" financing arrangement for a construction loan combines the three phases of a two-time close into a single, streamlined process. With down-payment options as low as 3.5%, we can help you get started building your custom dream home quickly and easily.
With the "one-time-close" transaction, the interim and permanent loan financing closes prior to construction. In essence, Capital City Home Loans acts as both the interim construction lender and the permanent mortgage lender.
BUILDER PHASE
You choose a builder
We conduct a Builder Eligibility Review
Cost-to-Construct is prepared (construction contract) and executed by all parties
CONSTRUCTION PHASE
What happens if my construction phase goes over 12 months?
Depending on the loan program, homebuyers may request an extension approved initially at 6 months, with a fee.
Will I have to requalify once my home is completed?
Depending on the loan program, homebuyers with credit reports, income documents and appraisals not exceeding 12 months will not have to requalify if the following conditions were met at the time of the original closing:
Down payment is at least 5% (95% loan-to-value ratio)
Homebuyer(s) have a minimum 700 credit score
Is insurance required during the construction phase of my loan?
Builders Risk insurance is required during the construction phase
If the property is located within a Special Flood Hazard Area (SFHA), a Coastal Barrier Resources System (CBRS) or Otherwise Protected Area (OPA), flood insurance is required
Once the house is complete and before the loan converts to permanent financing, a 12-month prepaid homeowners insurance policy is required
MODIFICATION PHASE
Can I raise my loan amount after closing to cover upgrades and/or overages?
Changes cannot be made to the loan amount after closing; any upgrades, overages or additions to the original construction cost are paid by the borrower.
Can I remove Mortgage Insurance (MI) at the time of modification?
Yes, with the following conditions:
If the request is made to cancel MI in conjunction with a principal reduction at modification, an appraisal is required at the borrower's expense
If the request is made to cancel MI without a principal reduction, refinancing with a new application is required.
Note:

Purchases must curtail based on the lesser of the sales price and appraisal
Refinance LTV is based on the new appraisal value
Get Your Custom Construction Loan Quote